Get Rollin' with Roland!
How Roland Rolls
The Inspiring New Book for Children
(and their grown-ups!) from Jim Carrey!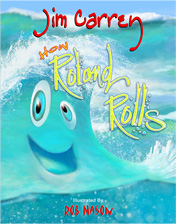 How Roland Rolls is a story about a wave named Roland who's afraid that, one day, when he hits the beach, his life will be over. But when he gets deep, he's struck by the notion that he's not just a wave — he's the whole big, wide ocean!