Roland Was Seen Last Night!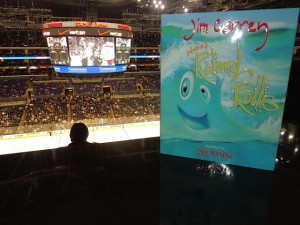 A member of the Seahorse Ensemble, one of Roland's favorite music groups, reported that Roland was seen at the L.A. Kings / Phoenix Coyotes hockey game last night at the Staples Center in Los Angeles. Roland likes ice! It's his solid form after all! Coincidentally, Jim was at the game too. We took a photo of Roland, but he's pretty slippery when it comes to having his photo taken at events! He's shy around so many people!
BTW, the Seahorse Ensemble performs a lovely Chamber music piece in the "How Roland Rolls" e-book, available online November 19! If you're a fan of 18th century classical music performed by seahorses, you'll love it!